June 22, 2009
What We Can Expect 
John 17:20-26
Jesus prayed that His followers would delight in an intimate relationship with the Father (John 17:21). But for many people, the Christian life consists of going to church, praying occasionally, and reading a psalm when they need comfort. That isn't much of a life, especially compared to what the Father has in mind for His children.
The Lord's ultimate purpose for each believer is that he or she will learn to think, act, and speak like Jesus (Rom. 8:29). To ensure that we reach this goal, He steps into our lives and walks with us. Then, not only can we discover His heart and mind, but we can also share our joys, needs, and burdens with Him. We are able to "hear" God's voice in Scripture, in the Holy Spirit's prompting, and in the wise words of fellow sojourners. The result of this spiritual give-and-take is that we fall more deeply in love with the Father, who loved us even before we were created (Eph. 1:4).
Good fathers desire to bless their children—and this is true of God. He reserves His best for those with whom He shares a relationship. Believers can expect clear guidance to keep them within His will (Prov. 3:5-6). And we have the promise of adequate provision from His storehouse, no matter what the nature of our need happens to be (Phil. 4:19).
God designed salvation to lead to relationship. He washes away our sin so we can enter His holy presence. His desire is to show us His unending love and in return to receive our companionship and worship. If you are just going through the motions of Christianity, you're missing out on the best part—a close connection to almighty God.
For more biblical teaching and resources from Dr. Charles Stanley, please visit www.intouch.org
and
click here to listen to Dr. Stanley at OnePlace.com.
FEATURED RESOURCE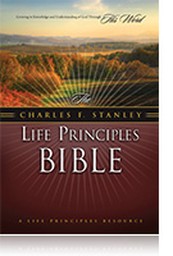 The NASB Life Principles Bible
You can now read the Scriptures in Dr. Stanley's favorite teaching translation -- the New American Standard -- while learning the 30 Life Principles that have guided him for more than 50 years. The new NASB Life Principles Bible will enhance your personal study time through explanation of key passages, plus helpful resources like "Answers to Life's Questions," concordance, maps, and much more. Available in leather and hardcover. 

Used with permission from In Touch Ministries, Inc. © 2009 All Rights Reserved.