In Touch Daily Devotional
by Dr. Charles Stanley
---
March 22, 2007 – Dealing With Guilt – Ephesians 1:3-14
            The struggle with guilt is common to both believers and unbelievers. Its effect on us is the same, whether the source is real or false.
            Feeling ashamed can lead us to doubt God's presence, provision, or promises. We might struggle to believe He loves us. And if the emotions are strong enough, we may even question our salvation. Guilt can cause us to forget we are free from condemnation (Romans 8:1). It can also make us fearful that God is judging us harshly.
Another response to guilt is to try and pay the Lord back for our real or imagined mistakes. To earn His approval, we get compulsively busy and stay that way. Guilt that develops from "oughts," "shoulds," and "musts" will rob us of pleasure in our relationships. Time with others is ruined by twinges of guilt over incomplete tasks. This can lead to discouragement and depression.
            Because of guilt's destructive power, we need to resolve it quickly. When we've broken God's commands, the solution is repentance and acceptance of God's forgiveness. False guilt, on the other hand, is erased by embracing biblical truth.
Remind yourself of three things. First, you are special. God chose you to belong to Him and is transforming you into Christ's image.       Second, you are loved. God's love for you is unconditional, unchangeable, and unending. Third, you are forgiven. Jesus paid the full price for your every sin. God has permanently forgiven you and adopted you into His family.
            God has provided an escape from your burden of guilt. Won't you accept His offer?
FEATURED RESOURCE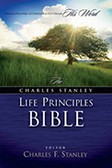 The Life Principles Bible
This Bible combines the wisdom of Scripture with the principles that guide Dr. Stanley's life and empower his ministry. Order your copy.
To see more resources from In Touch Ministries, please visit us at www.intouch.org or go directly to our bookstore at In Touch Ministries.