In Touch Daily Devotional 
by Dr. Charles Stanley
---
November 29, 2006
The Key to Successful Living
          The devotions for the last two days challenged us to live above our circumstances and focus upon God and His sovereignty. But how do we accomplish this in practical terms? In reality, we are often too weak to properly adjust our mindset to Christ and see the potential for good in painful times. Thankfully, believers are not without help.
          In order to focus on God and successfully live above our circumstances, we must understand our unity with Christ through the Holy Spirit.  Life is not segregated into neat packages of work, family, church, etc., with no crossover or blurring of the lines between areas. Christ should permeate our entire existence. Paul was in such oneness with the Lord that to live in his earthly body meant to have Christ with him every moment, no matter the situation. No area of the apostle's life could be defined apart from his faith; his mind, heart, and will were completely saturated with Christ.
          When Paul wrote, "To live is Christ," he was referring to Jesus living and working through us in the Holy Spirit's power (Philippians 1:21). That doesn't mean we think of divinity every second of the day, but we do make God's will our first consideration when formulating plans or interacting with others. 
          Trying circumstances are a reality for everyone, Christian or not. The difference for believers occurs when we recognize our oneness with Christ, when we act by His strength and live according to His precepts. That's when focusing on Him becomes second nature.
FEATURED RESOURCE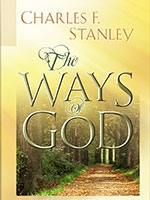 The Ways of God
from Dr. Charles Stanley
God's ways are always perfect, and following them leads to fulfillment and success. One of life's undeniable truths is that your choices will ultimately determine your future. While you can decide for yourself what career field to enter or who to marry, nothing compares with seeking God first and relying on the wonderful principles of His Word. In this series, Dr. Stanley teaches that as you serve God and seek His ways, you'll be blessed with peace, wisdom, and guidance for the journey ahead. Order here  now!
To see more resources from In Touch Ministries, please visit us at www.intouch.org  or go directly to our bookstore at In Touch Ministries.