October 12
Listening Through Restlessness 
Esther 6
When we're too preoccupied to hear God's voice, He will often get our attention by giving us a restless spirit. The book of Esther gives us a wonderful example of this.
In the sixth chapter, we see that King Xerxes "could not sleep so he gave an order to bring the book of records, the chronicles, and they were read before the king" (v. 1). As a result, Xerxes became aware of an assassination plot that had been foiled by a man named Mordecai. Filled with gratitude for this act of service, the ruler made plans to honor him.
What Xerxes could not have known, though, is that this hero had been targeted by Haman, one of the royal advisors. Not only had Haman plotted to hang Mordecai the Jew (5:14); he was also planning to exterminate the entire Jewish population. As a result of the king's intervention, however, Mordecai and all of the Jews were saved.
Now, what started this process? It was a restless night. Xerxes did not know why he couldn't sleep, but we know—the king had insomnia because God was trying to get his attention. The Lord had something important to say to Xerxes, and His way of getting through to him was an unpleasant night of sleeplessness.
How often has this happened to you? You go about your career and activities, but a  restlessness seems to hang over you, often causing sleepless nights. In such moments, dare to bow and pray, "Lord, what is it You want to tell me?" You'll discover that God can and will speak in your unrest.
For more biblical teaching and resources from Dr. Charles Stanley, please visit www.intouch.org.
Click here to watch Dr. Charles Stanley & In Touch Ministries Video Online
and
click here to listen to Dr. Stanley at OnePlace.com.
FEATURED RESOURCE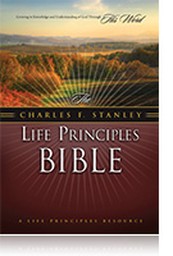 The NASB Life Principles Bible
You can now read the Scriptures in Dr. Stanley's favorite teaching translation -- the New American Standard -- while learning the 30 Life Principles that have guided him for more than 50 years. The new NASB Life Principles Bible will enhance your personal study time through explanation of key passages, plus helpful resources like "Answers to Life's Questions," concordance, maps, and much more. Available in leather and hardcover. 

Used with permission from In Touch Ministries, Inc. © 2009 All Rights Reserved.