In Touch Daily Devotional 
by Dr. Charles Stanley
---
October 20, 2006 Responding to God's Holiness Isaiah 6:1-8
            A beautiful sunset, a multicolored rainbow, and the first blooms of spring all elicit a positive reaction in us. In a similar way, God's holiness is so magnificent that it causes people to respond in various ways.
            The prophet Isaiah had a vision of the Lord's moral purity and separateness. He saw God seated on a throne in all His glorious splendor and cried out, "Woe is me, for I am ruined!" (Isaiah 6:5). A glimpse of divine perfection caused Isaiah to recognize the depths of his own sinful condition and to acknowledge the holiness of God. Simon, who became the disciple Peter, had a similar reaction to Jesus. When Jesus miraculously filled the fishing nets to overflowing, Simon Peter "fell down at Jesus' feet, saying, 'Go away from me Lord, for I am a sinful man!'" (Luke 5:8). However, the religious leaders of the day had a different attitude.  The more they heard Jesus' preaching and saw His work, the angrier they became.
            We are Christ's ambassadors to a hurting world, and there are varied reactions to our presence.  Those who are not abiding in Christ will experience what I call "holy heat." People who have rejected Jesus may act as if we are trying to force them to believe in Jesus. And Christians living in rebellion toward God will become uncomfortable around those abiding in Jesus; they may even ignore or criticize obedient believers or the local church. 
            God wants us to live out our faith in the workplace, in our communities, and at home, regardless of others' reactions. Has your faith permeated the many areas of your life?
 
FEATURED RESOURCE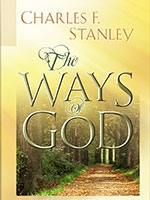 The Ways of God
from Dr. Charles Stanley
God's ways are always perfect, and following them leads to fulfillment and success. One of life's undeniable truths is that your choices will ultimately determine your future. While you can decide for yourself what career field to enter or who to marry, nothing compares with seeking God first and relying on the wonderful principles of His Word. In this series, Dr. Stanley teaches that as you serve God and seek His ways, you'll be blessed with peace, wisdom, and guidance for the journey ahead. Order here  now!
To see more resources from In Touch Ministries, please visit us at www.intouch.org  or go directly to our bookstore at In Touch Ministries.