October 20
Dealing With Anger 
Colossians 3:8-17
Christians are called to put aside "anger, wrath, malice, slander, and abusive speech" (Col. 3:8). The command is clear, but the process of achieving and maintaining this goal may seem confusing and overwhelming.
The first step is to recognize anger in our hearts. This may seem unnecessary to those who readily express their feelings, but for those who have buried their anger deep within, an extended time of soul-searching before the Lord will be necessary. Although hidden, the cancer of resentment has been growing and slowly infesting the heart. The sharp sword of God's Word needs to be allowed to do some surgery (Heb. 4:12).
The next step is to confess unrighteous anger as sin and then begin to deal with it immediately. Because anger is often a response to hurt, care must be taken not
to excuse or defend it in the name of justice. Although someone may have sinned against you, holding onto anger in response is also a sin. Scripture tells us to overcome evil with good, not to repay it (Rom. 12:17, 21).
Management of an irate lifestyle is not optional; anger must be put aside. We can't expect to live in the new nature Christ has created for us while retaining our "right" to be angry and hold grudges.
God's solution to an anger problem is a new Christ-like personality which He has created for us. Our responsibility is to put it on. He invites us to cooperate with Him in this process of transformation. With each step of obedience, the peace of Christ will increase and anger will diminish.
For more biblical teaching and resources from Dr. Charles Stanley, please visit www.intouch.org.
Click here to watch Dr. Charles Stanley & In Touch Ministries Video Online
and
click here to listen to Dr. Stanley at OnePlace.com.
FEATURED RESOURCE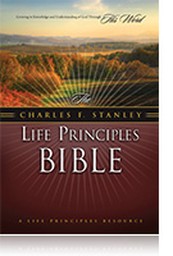 The NASB Life Principles Bible
You can now read the Scriptures in Dr. Stanley's favorite teaching translation -- the New American Standard -- while learning the 30 Life Principles that have guided him for more than 50 years. The new NASB Life Principles Bible will enhance your personal study time through explanation of key passages, plus helpful resources like "Answers to Life's Questions," concordance, maps, and much more. Available in leather and hardcover. 

Used with permission from In Touch Ministries, Inc. © 2009 All Rights Reserved.