A Unique Purpose
By: Rick Boxx
April 28, 2015
A Wall Street Journal article discussed the increased corporate focus on employees' need to feel a sense of purpose from their work. A Factiva search discovered that the words "mission" "higher purpose," or "changing the world" were mentioned 3,243 times to investors on recorded calls in 2014 compared to only 2,318 times five years ago!
This significant increase is in part due to the millennial generation wanting to work somewhere that makes a difference in the world.
Ephesians 2:10 teaches, "For we are God's handiwork, created in Christ Jesus to do good works, which God prepared in advance for us to do."
A good recruiting tool may be to help your existing employees and job applicants, know that you value how God designed both them and your business for a unique purpose.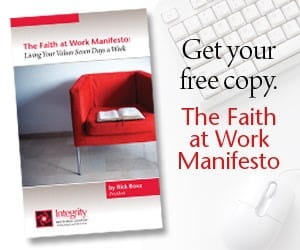 Learn more about Rick Boxx and Integrity Resource Center