True Genius
By:Rick Boxx
April 28, 2016
One of my favorite television shows is "Scorpion." In this series, a group of socially-inept geniuses contract with the Department of Defense to solve potentially catastrophic problems.
The beauty of the story is that each genius has their own field of expertise, but when they combine their skills, the synergy of their collective genius solves incredible problems.
1 Corinthians 12 teaches why collaborating as a team is important when Paul wrote, "If the whole body were an eye, where would the hearing be? If the whole were hearing, where would the sense of smell be?"
Speaker and author Tim Sanders summarized the point nicely at a conference I attended when he said, "Genius is a team sport." If you want to maximize innovation in your organization embrace and leverage the talents of others.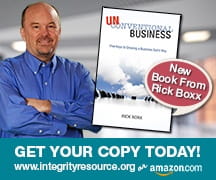 Learn more about Rick Boxx and Integrity Resource Center