Honor Your Vows
By:Rick Boxx
August 25, 2016
A banker I know says it's been hard to convince his colleagues to embrace Christianity when they see churches who won't honor their loan agreements. My friend's experience has been that many churches are quick to renegotiate when interest rates decline, but they would never allow the bank to renegotiate when rates increase.
Some churches teach integrity matters more than money, yet, don't model it. They're quick to ignore their commitments when money's involved.
Numbers 30:2 teaches, "When a man makes a vow to the Lord or takes an oath to obligate himself by a pledge, he must not break his word but must do everything he said."
As Christians, we need to remember that, to God and to those observing us, honoring our agreements is more important than money.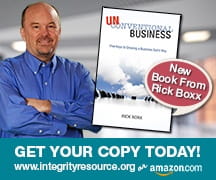 Learn more about Rick Boxx and Integrity Resource Center