Fearing God
By: Rick Boxx
November 14, 2012
Many people believe that complying with the law, and doing what they think is right, is being a person of integrity. God, however, expects us to embrace His moral code and to have a healthy "fear" of our Creator.
We should desire to obey God due to our love for Him, while also revering Him and even being fearful of His amazing power.
In Exodus 20 the Israelites trembled as they witnessed the power of God at Mount Sinai. "Moses said to the people, "Do not be afraid. God has come to test you, so that the fear of God will be with you to keep you from sinning."
If you desire to be known as a person of integrity in your workplace, embrace God's standards and learn to fear Him.
Mike Frank's Prosperity with Purpose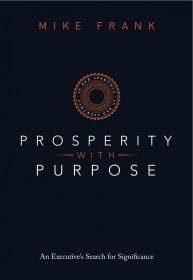 "If you are an executive that thrives on business but are thirsting for more, this book may be your story as well. I can't give you the formula for success, but I can show you how to live a life of relentless purpose…which may or may not include profound wealth". Click here to learn more.
"How well are you modeling Faith, Integrity, Relationships, and Excellence in your work? Find out by taking Integrity Resource Center's free FIRE Assessment!"
Contact Rick Boxx at www.integritymoments.org, and to learn more about Integrity Resource Center go to integrityresource.org.