The 5 P's of Ethical Decision Making – Part II
By: Rick Boxx
November 6, 2012
This week we're discussing Lee Strobel's 5 P's of Ethical Decision Making he highlighted in a talk at Woodmen Valley Chapel. The second P is for Prayer.
Lee recommended that it's critical that we pray about tough decisions for wisdom and guidance, but also that we pray for the moral conviction and courage to actually do the right thing. Many times we clearly know the right thing to do, but it takes courage to do it.
James 1:5 teaches, "If any of you lacks wisdom, he should ask God, who gives generously to all without finding fault, and it will be given to him."
The next time you're faced with a challenging ethical dilemma take Lee's advice and pray boldly for God's wisdom, then trust that He will provide it.
Rick Boxx's Integrity Moments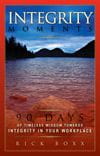 "Integrity Moments" is filled with biblical insights woven into real life stories that challenge you to be a model of integrity to your workplace. Click here to purchase
"How well are you modeling Faith, Integrity, Relationships, and Excellence in your work? Find out by taking Integrity Resource Center's free FIRE Assessment!"
Contact Rick Boxx at www.integritymoments.org, and to learn more about Integrity Resource Center go to integrityresource.org.