F.I.T.T: Intellectual
This week we are talking about F.I.T.T. leaders. The I in FITT is for intellectual.
As I study the qualities of healthy leaders, a common trait among most of these individuals is their desire to continuously learn. Healthy and effective leaders read books, listen to podcasts, and attend seminars to expand their knowledge.
F.I.T.T leaders grow and develop themselves intellectually.
F.I.T.T leadership has taken its que from what the Apostle Paul wrote in Romans 12:2 "Don't be conformed to the patterns of this world, but be transformed by the renewing of your mind. Then you will be able to test and prove what God's will is."
Today, meditate on God's word and read other God inspired books to create a change towards being a healthy and F.I.T.T leader.
Action Step: Read daily and/or listen to a podcast. 
Today's "Integrity Moment" is adapted with permission from the writings of Matt Cline.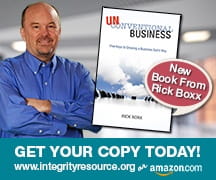 Learn more about Rick Boxx and Integrity Resource Center