Unlikely Disparity
A family member was having trouble with their car lender so I researched the company who loaned them the money. The lender's website claimed many awards for being one of the best workplaces in the nation, yet this didn't line up with customer reviews.
The average customer review, from hundreds of customers, was only 1 on a 5 point scale! In addition, several state attorney generals had sued this company for fraudulent activity.
The difference between the employees supposed view of the company and the customers was vast.
Matthew 10:16 teaches, "Behold, I send you out as sheep in the midst of wolves; so be shrewd as serpents and innocent as doves."
Be careful when you see disparate reports on a business. They may be wolves in sheep clothing.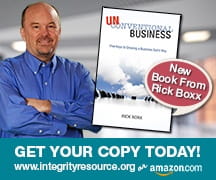 Learn more about Rick Boxx and Integrity Resource Center