The Ministry of Reconciliation
As a child I usually tried to be a peacemaker and avoid conflict. After decades in business, however, I've come to accept that there will be differences of opinion and misunderstandings that can easily result in broken relationships.
It's easy for these relationships to remain unreconciled leaving a bitter root of resentment. But God desires us to be peacemakers and reconcilers!
In Richard Blackaby's devotional book, "Inspired Leaders," he wrote, "We ought to leave a trail of reconciliation behind us wherever we go and not a series of former friends."
2 Corinthians 5:18 teaches, "Now all these things are from God, who reconciled us to Himself through Christ and gave us the ministry of reconciliation."
If you have a broken relationship that needs healing, pray and keep working towards reconciliation.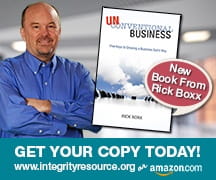 Learn more about Rick Boxx and Integrity Resource Center