The Perils of Inequality – Part II
Tim Weinhold, Director of Faith and Business for Eventide Funds, recently wrote about the growing disparity between the rich and the poor. Not only has the world's wealth become concentrated to just a few individuals, the middle class' net worth has declined 25% from 1983 to 2013, during record economic growth and corporate profits.
Weinhold's research points to the 1980s when corporate America bought the lie that the only purpose of business is profits, and shifted from serving multiple interests, including employees, to only serving the shareholder's interests.
In 2 Peter 2:3 Peter warned about false teachers. He wrote, "In their greed these teachers will exploit you with fabricated stories."
The premises on which we build our businesses are important. Be careful to avoid lies built on greed.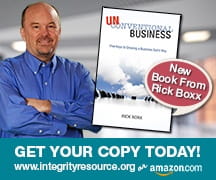 Learn more about Rick Boxx and Integrity Resource Center