"Seréis santos porque yo, el SEÑOR vuestro Dios, soy santo"
Levítico 19:2 LBLA
No puedo comenzar a contar cuantas veces he oído a la gente decir – Cristianos incluidos- "Todo lo que quiero es ser feliz" "o "sólo quiero que mis hijos sean felices". ¿Pero cuántas veces he oído a la gente decir, "lo único que quiero es ser santo" "o sólo quiero que mis hijos sean santos"? Temo que no muy a menudo.
Espero ese modo de pensar de parte de los incrédulos, pero los Cristianos realmente no tenemos ningún derecho de pensar así porque se opone directamente al objetivo de Dios para Su pueblo. La verdad es que no hay nada incorrecto con ser feliz si esto es un producto de servir a Dios y de vivir en medio de Su voluntad. Y realmente, no hay ningún otro modo de ser realmente feliz. Cualquier otra clase de la felicidad es breve a lo más. Pero decir que nuestro foco primario o deseo es la felicidad es mostrar lo vacio que realmente somos. Esto confirma el triste hecho que todavía pensamos que la vida entera es toda sobre nosotros.
Dios lo dice de otra manera. Dios es santo, y Él desea que nosotros también seamos santos. El problema viene cuando pensamos que la santidad es algo que podemos conseguir al hacer o no hacer ciertas cosas. Ser santos significa ser diferentes y apartarnos para Dios. Por definición, esto nos hace diferentes al resto del mundo.
Una de las amenazas más grandes para la busca de la santidad en nuestras propias vidas o en la de los demás, es la idea falsa del amor incondicional. Sí, Dios ama a cada uno incondicionalmente. ¡Pero ese amor no borró la necesidad de un sacrificio horrible y sangriento para restaurar a los pecadores (¡como usted y yo!) a una relación con Dios. Jesús no se fue con mucho gusto a la Cruz simplemente para dar un ejemplo desinteresado para que nosotros sigamos; Él fue se allí porque nada menos satisfaría a un Dios justo y que proporcionaría el perdón de nuestros pecados.
Jesús puede no haber estado feliz cuando colgó en la Cruz, pero Él era santo. Este es el ejemplo que debemos seguir — y eso no es legalismo. Es la Palabra de Dios para nosotros, Su llamada a nosotros, y la obra que sólo Él puede hacer en nosotros. Nuestra parte es tener un cambio de paradigma que dice, "Sí, permitiré que Dios me aparte del mundo y haga una obra de santidad en mí — aun si no siempre me siento feliz sobre ello."
Por último y como consiguiente nos encontraremos desbordándonos de alegría, y esa alegría se desbordará en los demás. Que podamos nosotros prestar atención a la Palabra de Dios para ser santos…así como Él es santo.
***
"You shall be holy, for I the LORD your God am holy"
Leviticus 19:2, NKJV
I can't begin to count how many times I've heard people—Christians included—say, "All I want is to be happy" or "I just want my children to be happy." But how many times have I heard people say, "I just want to be holy" or "I just want my children to be holy"? Not nearly as often, I'm afraid.
I expect that mindset from unbelievers, but as Christians we really have no right to say it, as it flies straight in the face of God's purpose for His people. True, there's nothing wrong with being happy if it's a byproduct of serving God and living in the middle of His will. And really, there is no other way to be truly happy. Any other sort of happiness is fleeting at best. But to say that our primary focus or desire is happiness is to show how very shallow we truly are. It confirms the sad fact that we still think life is all about us.
God says otherwise. God is holy, and He desires that we would be holy as well. The problem comes when we think holiness is something we can achieve by doing or not doing certain things. Being holy means being set apart by and for God. By definition, that makes us different from the rest of the world.
One of the biggest threats to seeking holiness in our own lives or others' is the misconception of unconditional love. Yes, God loves everyone unconditionally. But that love didn't wipe out the need for a horrible, bloody sacrifice to restore sinners (as in you and me!) to relationship with God. Jesus didn't willingly go to the Cross simply to set a selfless example for us to follow; He went there because nothing less would satisfy a just God and provide forgiveness for our sins.
Jesus may not have been happy when He hung on the Cross, but He was holy. That's the example we are to follow—and that is NOT legalism. That is God's Word to us, His call to us, and the work that only He can do in us. Our part is to have a paradigm shift that says, "Yes, I will allow God to set me apart from the world and do a work of holiness in me—even if I don't always feel happy about it."
Ultimately, we will find ourselves overflowing with joy as a result, and that joy will spill over onto others. May we heed God's Word to be holy…even as He is holy.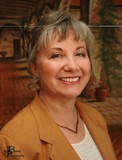 Kathi Macias, popular speaker and prolific author, is an Angel-award winning writer who has published nearly thirty books, including her latest releases, Mothers of the Bible Speak to Mothers of Today (New Hope Publishers) and My Son John (a novel from Sheaf House). Whether keyboarding her latest book, keynoting a conference, or riding on the back of her husband's Harley, Kathi "Easy Writer" Macias is a lady on a mission to communicate God's vision. Her insightful words—filled with passion, humor and soul nourishment—refresh audiences from all walks of life. Join Kathi as she hosts "Write the Vision" every Thursday from 6—7 p.m. (Pacific Time) via THE International Christian Network (www.theicn.com). To learn more about Kathi or to book her for your next event, visit www.KathiMacias.com. Spanish translations by Cynthia Alcantara (cynthia.alcantara1@gmail.com).