Porque has sido mi socorro, Y así en las sombras de Tus alas me regocijaré.
Salmo 63:7 RV
Hace una tarde recientemente una querida amiga y yo nos sentamos a conversar acerca del hecho que aunque ella estaba orando y buscando a Dios para una dirección clara, a ella le parecía no recibir ninguna respuesta y no podía "ver" el camino que ella debía de seguir. A medida que yo la escuchaba, se me hizo claro a mí (¿no es siempre más fácil ver/oír la dirección de Dios para los demás que para nosotros mismos?) que Dios la tenía exactamente donde ella estaba para un objetivo específico. ¡Ella era incapaz de ver a dónde Dios quería que ella se fuera porque Él la había llamado para esconderse (y regocijarse!) por una temporada bajo la sombra de Sus alas.
¿Ha estado usted alguna vez allí? Yo si — y me resistí a ello. No me gusta estar en sitios oscuros. Quiero ver claramente el camino enfrente de mí. Pero de vez en cuando, por varios motivos, Dios nos llama a venir debajo de la sombra protectora de Su ala donde, como pollitos indefensos buscando la protección de la madre-gallina, y somos atraídos al pecho de nuestro Protector. Allí, SI estamos dispuestos a esperar y escuchar, nos regocijaremos al oír el latido del corazón de Dios.
¿Que mejor dirección, protección, provisión puede haber? ¡Ninguna! Si nos sintonizamos al latido del corazón de Dios, sabremos pronto exactamente donde Él quiere que nos vayamos, lo que Él quiere que nosotros hagamos, y como Él quiere que nosotros vivamos. Sí, es oscuro en aquel lugar secreto, pero esa es la oscuridad con propósito de Dios, no la oscuridad peligrosa del enemigo. Dios nos llama a Su corazón para que nosotros podamos bloquear todo lo demás y aprender a andar en la obediencia a Sus órdenes.
Juan, el más joven de los discípulos de Jesús, descubrió su identidad y objetivo en la Última Cena, cuando él se inclinó contra el pecho de Cristo. Precisamente allí él oyó el latido del corazón de Dios. Ya que muchos creen que este mismo Juan es el autor del Evangelio de Juan, está claro que desde aquel punto de la unión profunda con Jesús, Juan comenzó a percibir y referirse a él como "el discípulo aquel que Jesús amó."
Mis queridos amigos(as), esa es nuestra verdadera identidad. Kathi Macias es mi nombre temporal en esta tierra, pero mi verdadera identidad y objetivo son encontrados en el hecho que yo soy la discípula que Dios ama. Y usted también. Pero sólo venimos al lugar donde nos podemos regocijar cuando con mucho gusto moramos bajo la sombra de Su ala, escuchando el latido de Su corazón hasta que estamos listos a responder "Sí, Señor" a cualquier dirección que Él da.
¡Que se regocije usted en la sombra del ala de Dios mientras escucha el latido de Su corazón — y luego camine en la verdad de su identidad y llamado, independientemente de lo que esto pueda traer!
***
Because You have been my help,
Therefore in the shadow of Your wings I will rejoice.
Psalm 63:7
One evening recently a dear friend and I sat talking about the fact that though she was praying and seeking God for clear direction, she seemed to receive no answer and couldn't "see" the way she was supposed to go. As I listened to her, it became clear to me (isn't it always easier to see/hear God's direction for someone else than for ourselves?) that God had her exactly where she was for a specific purpose. She was unable to see where God wanted her to go next because He had called her to hide (and rejoice!) for a season under the shadow of His wings.
Ever been there? I have—and I resisted it. I don't like being in dark places. I want to see clearly the path before me. But on occasion, for varying reasons, God calls us to come underneath the protective shadow of His wing where, like helpless chicks seeking the protection of the mother hen, we are drawn close to our Protector's breast. There, IF we are willing to wait and to listen, we will rejoice to hear the heartbeat of God.
What better direction, protection, or provision can there be? None! If we are tuning in to God's heartbeat, we will soon know exactly where He wants us to go, what He wants us to do, and how He wants us to live. Yes, it is dark in that secret place, but it is the purposeful darkness of God, not the dangerous darkness of the enemy. God calls us to His heart so we can block out all else and learn to walk in obedience to His marching orders.
John, the youngest of Jesus' disciples, discovered his identity and purpose at the Last Supper, when he leaned up against the breast of Christ. It was there that he heard the heartbeat of God. Since it is believed by many that this same John was the author of the Gospel of John, it is clear that from that point of deep connection with Jesus, John began to perceive and refer to himself as the "disciple that Jesus loved."
That's our true identity, folks. Kathi Macias is my temporary name on this earth, but my real identity and purpose is found in the fact that I am the disciple Jesus loves. And so are you. But we only come to the place of being able to rejoice in that fact when we willingly abide in the shadow of His wing, listening to His heartbeat until we are ready to respond with "Yes, Lord" to whatever direction He gives.
May you rejoice in the shadow of God's wing as you listen to His heartbeat—and then walk in the truth of your identity and calling, whatever that may bring!
***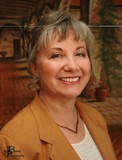 Kathi Macias, popular speaker and prolific author, is an Angel-award winning writer who has published nearly thirty books, including her latest releases, Mothers of the Bible Speak to Mothers of Today (New Hope Publishers) and My Son John (a novel from Sheaf House). Whether keyboarding her latest book, keynoting a conference, or riding on the back of her husband's Harley, Kathi "Easy Writer" Macias is a lady on a mission to communicate God's vision. Her insightful words—filled with passion, humor and soul nourishment—refresh audiences from all walks of life. Join Kathi as she hosts "Write the Vision" every Thursday from 6—7 p.m. (Pacific Time) via THE International Christian Network (www.theicn.com). To learn more about Kathi or to book her for your next event, visit www.KathiMacias.com. Spanish translations by Cynthia Alcantara (cynthia.alcantara1@gmail.com).