Dios re-escribió el texto de mi vida Cuando abrí el libro de mi corazón ante Sus ojos
(Salmo 18:24, traducción El Mensaje)
Casi nunca uso esta traducción cuando personalmente hago mi estudio Bíblico o uso citas bíblicas, pero cuando me encontré con la frase de arriba, mi espíritu de escritora dentro de mí saltó con un "Sí".
¿Puede alguien relacionarse con esto? ¿Se ha encontrado usted alguna vez actuando torpemente a lo largo de su vida y tratando de orquestarla, ordenar sus pasos, dirigir su futuro – y pararse y preguntarse, pero que estaba pensando yo?
¿No somos el capitán de nuestro propio barco o el maestro de nuestro propio destino, pero con seguridad actuamos de esa manera algunas veces, ¿no es así? Ah, lo sé, antes de convertirnos a Cristianos realmente creemos que somos y vivimos de acuerdo a eso. Entonces nos encontramos cara a cara con el Salvador, le entregamos nuestras vidas, y nunca hacemos ese mismo error tonto otra vez. ¿Verdad?
Bien, teóricamente, no lo hacemos. Y la mayor parte del tiempo, no intencionadamente. Pero a menos que yo sea diferente que cualquier otro creyente en el planeta tierra, caemos en esa forma de pensar de vez en cuando. ¡Y ah, qué lío podemos hacer de las cosas! Esos capítulos auto-escritos de nuestras vidas están compuestos del texto que nos gustaría borrar, ¿verdad?
Este Salmo sostiene el secreto al botón para corregir. Aunque nosotros no podamos volver y borrar lo que ya hemos escrito, si somos honestos con Dios sobre esa tontería y nos arrepentimos en nuestro corazón, Él puede (y lo hará) volver a escribir el texto de nuestras vidas. Aunque los pecados y los errores del pasado todavía puedan tener consecuencias hoy, podemos sentirnos asegurados que el Dios del universo sacará algo bueno aún de las peores páginas de nuestro pasado.
Como una escritora, sé como es de fácil irse por una tangente impuesta por uno mismo, distraerse y quedar fuera de la pista. El resultado es un material mal escrito y mucho tiempo perdido. Pero así como Dios ha redimido con Su gracia mi pobre escritura y tiempo gastado, Él redimirá y volverá a escribir el texto de nuestras vidas si solamente le abrimos nuestros corazones y le permitimos que Él termine nuestro libro
Porque después de todo Él es el Autor y el Acabador de nuestra fe.
***
God rewrote the text of my life when I opened the book of my heart to his eyes
(Psalm 18:24, The Message).
I seldom use The Message for personal Bible study or quotes, but when I came across the above phrase, the writer in me responded with a hearty "Yes!"
Can anyone relate? Have you ever caught yourself bumbling along, trying to orchestrate your life, order your steps, direct your future—and then stopped and asked yourself, "What was I thinking?"
We are not the captain of our own ship or the master of our own fate, but we sure act like it sometimes, don't we? Oh, I know, before we become Christians we actually believe that we are and live accordingly. Then we come face to face with the Savior, turn our lives over to Him, and we never make that foolish mistake again. Right?
Well, theoretically, we don't. And most of the time, not intentionally. But unless I'm different than every other believer on planet earth, we do slip into that faulty thinking on occasion. And oh, what a mess we can make of things! Those self-written chapters of our lives are made up of text we'd like to delete, aren't they?
Psalm 8:24 holds the secret to the edit button. Though we can't go back and erase what we've already written, if we will be honest with God about the foolishness and regret in our heart, He can (and will) rewrite the text of our lives. Though the sins and mistakes of the past may still have consequences today, we can be assured that the God of the universe will somehow bring good out of even the worst pages of our past.
As a writer, I know how easy it is to go off on a self-imposed tangent, to become distracted and get off-track. The result is poorly written material and lots of wasted time. But just as God has so graciously redeemed my poor writing and wasted time, so He will redeem and rewrite the text of our lives if we will just open our hearts to him and allow Him to finish our book for us.
He is, after all, the Author and Finisher of our faith.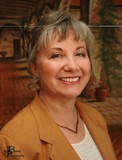 Kathi Macias, popular speaker and prolific author, is an Angel-award winning writer who has published nearly thirty books, including her latest releases, Mothers of the Bible Speak to Mothers of Today (New Hope Publishers) and My Son John (a novel from Sheaf House). Whether keyboarding her latest book, keynoting a conference, or riding on the back of her husband's Harley, Kathi "Easy Writer" Macias is a lady on a mission to communicate God's vision. Her insightful words—filled with passion, humor and soul nourishment—refresh audiences from all walks of life. Join Kathi as she hosts "Write the Vision" every Thursday from 6—7 p.m. (Pacific Time) via THE International Christian Network (www.theicn.com). To learn more about Kathi or to book her for your next event, visit www.KathiMacias.com. Spanish translations by Cynthia Alcantara (cynthia.alcantara1@gmail.com).