AUGUST 12
The Forgiveness of the King
"Blessed are they whose iniquities are forgiven, and whose sins are covered." Romans 4:7
There was a king who asked slaves on a ship, "Why are you in chains?"
One replied, "I don't know. I was in a crowd when a crime was committed. I am innocent." He asked another who said, "I am not guilty, but am a victim of false witnesses."
The king proceeded to ask each man the same question and each had a reason why he was innocent. That is, until one man responded, "I am here because I deserve to be here. I have sinned against my God and against my king. And now I am paying the penalty."
The king stepped back and said, "What are you doing here among so many honest men? Guards release him!"
Not until we admit our sin are we going to know the mercy and the forgiveness of the King. Bow before Him today and admit you are lost without Him.
---
FEATURED RESOURCE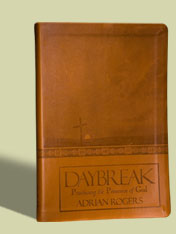 Daybreak: Practicing the Presence of God
This devotional journal with daily applications was designed several years ago by Adrian Rogers. This leather-bound keepsake will be a treasured addition to start your day out right!
Each day you will begin with a nugget from one of his messages, a reading from God's Word, and a place to write your "Spiritual concerns and prayer requests." Order your copy today.
For more Adrian Rogers' resources you may visit the Love Worth Finding bookstore at www.lwf.org.