AUGUST 14
Stepping Out in Faith
"For as the body without the spirit is dead, so faith without works is dead also." James 2:26
When you ask God for something, do you just sit back, do nothing and say, "Well, I'm going to show my faith by doing nothing"?
To the contrary, you will show your faith by doing something. For faith without works is what? Dead! (Also see James 2:20.)
Do you want a house? Pray for it. Then say, "Amen," with a hammer and saw.
Do you want a wife? Pray for one. Then go shave, put on some cologne, learn some manners, and learn how to be thoughtful and loving.
What have you been praying earnestly about this week?
What is your heart's desire?
Ask the Holy Spirit to show you how you can put feet to that prayer.
Then, walk the talk!
---
FEATURED RESOURCE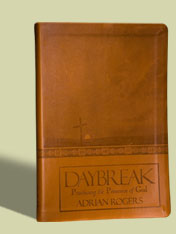 Daybreak: Practicing the Presence of God
This devotional journal with daily applications was designed several years ago by Adrian Rogers. This leather-bound keepsake will be a treasured addition to start your day out right!
Each day you will begin with a nugget from one of his messages, a reading from God's Word, and a place to write your "Spiritual concerns and prayer requests." Order your copy today.
For more Adrian Rogers' resources you may visit the Love Worth Finding bookstore at www.lwf.org.