Love Worth Finding - Aug. 20, 2008
AUGUST 20
A Chain of Ten Links
"For whosoever shall keep the whole law, and yet offend in one point, he is guilty of all." James 2:10
So many people have the idea that God is going to grade on a curve. We say to ourselves, "We're bad, but we're not as bad as so-and-so." But God doesn't grade on a curve. He grades on an absolute standard of holiness.
Can anybody say that they've kept all of God's Ten Commandments? Of course not, but let's suppose you had only broken one commandment. What would happen?
Well, let me illustrate. If a man was dangling over a fire by a chain of ten links and nine of those links were made of forged steel and one was made of crepe paper, what would happen?
Use this illustration with someone today as a testimony of God's mercy in sending His Son for the salvation of all mankind.
---
FEATURED RESOURCE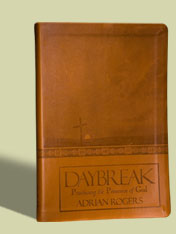 Daybreak: Practicing the Presence of God
This devotional journal with daily applications was designed several years ago by Adrian Rogers. This leather-bound keepsake will be a treasured addition to start your day out right!
Each day you will begin with a nugget from one of his messages, a reading from God's Word, and a place to write your "Spiritual concerns and prayer requests." Order your copy today.
For more Adrian Rogers' resources you may visit the Love Worth Finding bookstore at www.lwf.org.