December 10
Being a Disciple of the Lord Jesus Christ
"God is faithful, by whom ye were called unto the fellowship of His Son Jesus Christ our Lord." 1 Corinthians 1:9
John Calvin was one of the greatest theologians who ever lived. He said, "I gave up all for Christ and what have I found? I have found everything in Christ."
Do you wish you could say that, too? You can. Just don't get confused about what it means to "give up all" to find Christ.
So many think that being a disciple means they must get into a movement or go to the mission field or attend seminary.
Friend, being a disciple is fellowship with the Lord Jesus Christ — knowing Jesus intimately and following Him wherever He leads. Fellowship with Christ comes before service for Christ. We must minister to Jesus before we can minister to anyone else.
Are you praying about where you fit in the body of Christ as His disciple?
Spend some time fellowshipping with Him this week and the answer will come.
---
FEATURED RESOURCE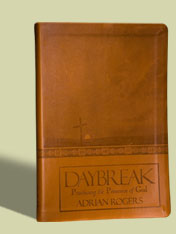 Daybreak: Practicing the Presence of God
This devotional journal with daily applications was designed several years ago by Adrian Rogers. This leather-bound keepsake will be a treasured addition to start your day out right!
Each day you will begin with a nugget from one of his messages, a reading from God's Word, and a place to write your "Spiritual concerns and prayer requests." Order your copy today.
For more Adrian Rogers' resources you may visit the Love Worth Finding bookstore at www.lwf.org.