December 12
What Is True Humility?
"Humble yourselves in the sight of the Lord, and He shall lift you up." James 4:10
Have you ever wondered what humility was all about?
True humility is not thinking negatively about yourself. It is agreeing with what God says about you.
The grace of God will exalt a person without inflating him, and it will humble a person without debasing him. It causes us to say, "I am what I am because of Christ."
In this life, you are not going to be sinless, but as you deal with sin in your life, you can come closer to being free from sin. Sinless? No. Blameless? Yes. As you confess and stay prayed up, you can be blameless.
Do you have a concordance in your Bible?
Do a study on the subject of "humility."
Start with Philippians 2:5-11.
"Let this mind be in you, which was also in Christ Jesus: Who, being in the form of God, thought it not robbery to be equal with God: But made Himself of no reputation, and took upon Him the form of a servant, and was made in the likeness of men: And being found in fashion as a man, He humbled Himself, and became obedient unto death, even the death of the cross. Wherefore God also hath highly exalted Him, and given Him a name which is above every name: That at the name of Jesus every knee should bow, of things in heaven, and things in earth, and things under the earth; And that every tongue should confess that Jesus Christ is Lord, to the glory of God the Father."
---
FEATURED RESOURCE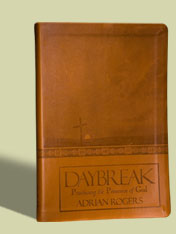 Daybreak: Practicing the Presence of God
This devotional journal with daily applications was designed several years ago by Adrian Rogers. This leather-bound keepsake will be a treasured addition to start your day out right!
Each day you will begin with a nugget from one of his messages, a reading from God's Word, and a place to write your "Spiritual concerns and prayer requests." Order your copy today.
For more Adrian Rogers' resources you may visit the Love Worth Finding bookstore at www.lwf.org.