December 13
Breaking Free From the Comparison Trap
"And hath raised us up together, and made us sit together in heavenly places in Christ Jesus." Ephesians 2:6
Have you ever noticed that we buy things we don't need with money we don't have to impress people we don't even like? We try "keeping up with the Joneses," but when we finally catch up with them, they refinance!
Let me exhort you to get off that comparison treadmill and onto the pathway of serenity.
You are accepted right now in Christ. God does not change you so He can love you. He loves you so He can change you!
God loves you as much as He loves Jesus. If you are saved, you are in Christ. And where is He? He is seated in the heavenlies. You are also seated in those heavenly places, even though you still have your address here on planet Earth. You are enthroned with Him.
When was the last time you compared yourself with someone else? It's time to get yourself unharnessed from the comparison yoke and break free as a child of the King!
---
FEATURED RESOURCE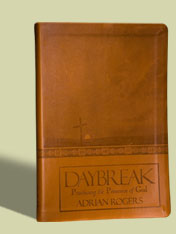 Daybreak: Practicing the Presence of God
This devotional journal with daily applications was designed several years ago by Adrian Rogers. This leather-bound keepsake will be a treasured addition to start your day out right!
Each day you will begin with a nugget from one of his messages, a reading from God's Word, and a place to write your "Spiritual concerns and prayer requests." Order your copy today.
For more Adrian Rogers' resources you may visit the Love Worth Finding bookstore at www.lwf.org.