December 5
Watching to Find You Faithful
"He that is faithful in that which is least is faithful also in much: and he that is unjust in the least is unjust also in much." Luke 16:10
There was a man who was going to be made a chief executive. The Board of Directors talked about it, and it was a "done deal."
In the company cafeteria one day, the existing CEO was behind this man in line. Unbeknownst to the man, the CEO saw him take a pat of butter that cost about 3 cents, then put a slice of bread over the butter so that no one would see it.
The CEO went back to the Board and told them they had the wrong man. He told them that he didn't have integrity, and for 3 cents the man lost a monumental promotion.
Are you faithful in the little things?
Let this be the beginning of a new day of faithfulness in your life.
Remember the little things and that God is watching to find you faithful.
---
FEATURED RESOURCE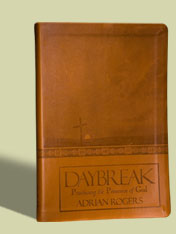 Daybreak: Practicing the Presence of God
This devotional journal with daily applications was designed several years ago by Adrian Rogers. This leather-bound keepsake will be a treasured addition to start your day out right!
Each day you will begin with a nugget from one of his messages, a reading from God's Word, and a place to write your "Spiritual concerns and prayer requests." Order your copy today.
For more Adrian Rogers' resources you may visit the Love Worth Finding bookstore at www.lwf.org.