December 6
Faithful to the Fellowship
"Not forsaking the assembling of ourselves together, as the manner of some is; but exhorting one another: and so much the more, as ye see the day approaching." Hebrews 10:25
Do you know what is happening in America today? People who claim to be Christians are not getting involved and becoming faithful to a church — the local fellowship of believers.
Such a thing was unheard of in the Bible. If you were a Christian, you were faithful to the fellowship. You attended when everyone gathered together. If you stopped attending, they assumed that you were an apostate. What's more important than the local visible expression of the body of Christ?
It is the way we stay "plugged in" to the needs of the body of Christ.
It is the way we show honor to Him in worship.
It is simply the way.
What do you have on your schedule this week that is more important than being a part of the blood-bought body of the Lord Jesus Christ?
---
FEATURED RESOURCE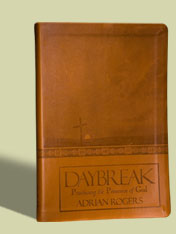 Daybreak: Practicing the Presence of God
This devotional journal with daily applications was designed several years ago by Adrian Rogers. This leather-bound keepsake will be a treasured addition to start your day out right!
Each day you will begin with a nugget from one of his messages, a reading from God's Word, and a place to write your "Spiritual concerns and prayer requests." Order your copy today.
For more Adrian Rogers' resources you may visit the Love Worth Finding bookstore at www.lwf.org.