Love Worth Finding - Feb. 13, 2009
February 13
Praying, "Thy Will Be Done on Earth ...."
"After this manner therefore pray ye: Our Father which art in heaven, Hallowed be Thy name." Matthew 6:9-10
When you pray, "Our Father which art in heaven, hallowed be Thy name. Thy kingdom come, thy will be done . . . on earth as it is in heaven" do you realize that this prayer has not yet been answered, but it will be answered?
Jesus Christ is literally, actually, visibly, bodily coming back to this earth. Do you believe that? Do you think that Jesus Christ would have taught us to pray this prayer if it would not have been answered? His kingdom has not come yet on earth. His will is not being done on earth. But it shall be; it will be because our Lord taught us to pray that.
When you read or watch the news today, how do you see God's will not being done on earth? Ask the Lord that His will would be brought to earth — praying for the people involved in each story — for their welfare and their salvation.
---
FEATURED RESOURCE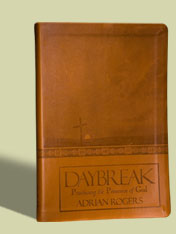 Daybreak: Practicing the Presence of God
This devotional journal with daily applications was designed several years ago by Adrian Rogers. This leather-bound keepsake will be a treasured addition to start your day out right!
Each day you will begin with a nugget from one of his messages, a reading from God's Word, and a place to write your "Spiritual concerns and prayer requests." Order your copy today.
For more Adrian Rogers' resources you may visit the Love Worth Finding bookstore at www.lwf.org.