February 2
Praying Vain Repetitions
"But when ye pray, use not vain repetitions, as the heathen d for they think that they shall be heard for their much speaking." Matthew 6:7
It was a very long, tiring day. I had preached three sermons and dictated a stack of letters. And at the close of each letter I ended it, "In Jesus' name, Adrian Rogers."
A man came to me at the end of a service and said, "I must see you. I have a severe problem." I was bone weary but I said, "Very well, come on back and let's talk."
He talked and I listened. My heart was moved with compassion. I said, "Let me pray for you." And when I finished I said, "In Jesus' name, Adrian Rogers." And then I thought, "Oh my! Did I say that? Did he hear me say that?" How easily we slip and rattle off our prayers.
Do you find yourself using repetitive phrases in your prayer life? Today, just talk with God. Don't think too much about your words. Follow your heart.
---
FEATURED RESOURCE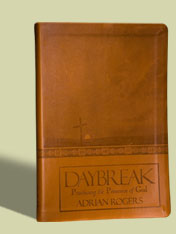 Daybreak: Practicing the Presence of God
This devotional journal with daily applications was designed several years ago by Adrian Rogers. This leather-bound keepsake will be a treasured addition to start your day out right!
Each day you will begin with a nugget from one of his messages, a reading from God's Word, and a place to write your "Spiritual concerns and prayer requests." Order your copy today.
For more Adrian Rogers' resources you may visit the Love Worth Finding bookstore at www.lwf.org.