February 4
The Lesson of Prayer
"Thy kingdom come. Thy will be done in earth, as it is in heaven." Matthew 6:10
Some time ago I was invited to preach in another state, and my schedule was such that I could not come. When they offered to send a private plane, I agreed.
As we flew over Arkansas, the pilot asked me if I wanted to try my hand at flying the plane, and I said, "Yes!"
Of course, he was sitting right next to me. He could fly the plane without me, but I couldn't fly it without him. He had his hands on his controls all the while, and he allowed me to participate with him.
That's the way prayer is.
God can do it without you, but God enables you to have fellowship with Him and teaches you a dependency upon Him through prayer.
Kneel before Him today. Meditate on 1 Chronicles 16:23-26. Glory in His presence.
---
FEATURED RESOURCE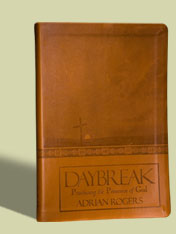 Daybreak: Practicing the Presence of God
This devotional journal with daily applications was designed several years ago by Adrian Rogers. This leather-bound keepsake will be a treasured addition to start your day out right!
Each day you will begin with a nugget from one of his messages, a reading from God's Word, and a place to write your "Spiritual concerns and prayer requests." Order your copy today.
For more Adrian Rogers' resources you may visit the Love Worth Finding bookstore at www.lwf.org.