Love Worth Finding - Feb. 7, 2009
February 7
The Blessed Hope of His Glorious Appearing
"Looking for that blessed hope, and the glorious appearing of the great God and our Savior Jesus Christ." Titus 2:13
Whenever I walk the shores of the Sea of Galilee, I long to see Jesus walking there.
I would have loved to have seen Him walk on the water — planting His footsteps on the sea with the wind in His hair and His garments flowing.
I think I'd be a better preacher had I seen Him dying in agony and blood, and to have experienced that Easter morning.
Wouldn't it have been wonderful to have seen Him ascend into the glory?
Although we didn't see Him at any of those times, we are going to see Him! There is a blessed hope awaiting us as God's children. When Jesus returns, He's not coming as the carpenter; He's coming as the conqueror!
Thank God for this Good News right now. Then ask Him to bring you someone today with whom you can share this particularly Good News of Christ's return!
---
FEATURED RESOURCE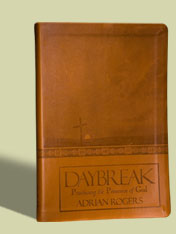 Daybreak: Practicing the Presence of God
This devotional journal with daily applications was designed several years ago by Adrian Rogers. This leather-bound keepsake will be a treasured addition to start your day out right!
Each day you will begin with a nugget from one of his messages, a reading from God's Word, and a place to write your "Spiritual concerns and prayer requests." Order your copy today.
For more Adrian Rogers' resources you may visit the Love Worth Finding bookstore at www.lwf.org.