February 8
He Alone Is Worthy
"Worthy is the Lamb that was slain to receive power, and riches, and wisdom, and strength, and honor, and glory, and blessing." Revelation 5:12
There's an interesting story about how a gifted violinist named Fritz Kreisler acquired a Stradivarius violin.
Kreisler heard about the violin owned by an old Englishman and offered to buy it, but the old man said it wasn't for sale. One day Kreisler ventured to the old man's house and said, "If I can't buy it, may I touch it?" The old Englishman invited him in and even allowed him to begin making music with it. Great tears welled up in the old Englishman's eyes, and he said, "It is not for sale, but it is yours. You are the Master and alone are worthy of it!"
That is what worship is all about. God is the Master, and He alone is worthy.
Starting with the letter "A ", and going through the alphabet, find something to praise Him for with each letter – for all that He is, has been, and will be!
---
FEATURED RESOURCE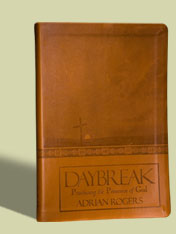 Daybreak: Practicing the Presence of God
This devotional journal with daily applications was designed several years ago by Adrian Rogers. This leather-bound keepsake will be a treasured addition to start your day out right!
Each day you will begin with a nugget from one of his messages, a reading from God's Word, and a place to write your "Spiritual concerns and prayer requests." Order your copy today.
For more Adrian Rogers' resources you may visit the Love Worth Finding bookstore at www.lwf.org.