Love Worth Finding - Jan. 18, 2009
January 18
Rejoicing at the Lord's Table
"Jesus saith unto them, Come and dine." John 21:12a
Is Satan whispering that God is not for you in your daily battles? Is he whispering lies that God is going to erase your name from the book of life for something you've done, yet repented over?
Satan never had it so wrong! And Jesus never had it so right!
Salvation in Christ is not a funeral, but a feast! The Bible is a continual feast from Genesis right through to Revelation. Covenant meals and meals of fellowship are frequent occurrences in Scripture. Our Shepherd, the Lord Jesus, has given many examples of His open invitation to be replenished and restored, to remember, and to rejoice at His table.
Call your family or Bible Study group together this week and celebrate the Lord's Supper. Take time to remember the powerful promise of His resurrection, replenishment, and restoration.
---
FEATURED RESOURCE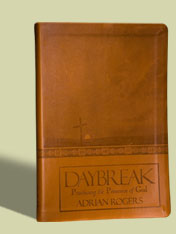 Daybreak: Practicing the Presence of God
This devotional journal with daily applications was designed several years ago by Adrian Rogers. This leather-bound keepsake will be a treasured addition to start your day out right!
Each day you will begin with a nugget from one of his messages, a reading from God's Word, and a place to write your "Spiritual concerns and prayer requests." Order your copy today.
For more Adrian Rogers' resources you may visit the Love Worth Finding bookstore at www.lwf.org.