Love Worth Finding - Mar. 1, 2009
March 1
The Initiating Grace of God
"We love Him, because He first loved us." 1 John 4:19
When I was in the sixth grade, I wrote a love note to Joyce Louise Gentry. Then she became my bride and my beloved. Do you know she still has that note? From that time on she began to take an interest in me. Do you know why? Because I first loved her.
Do you know what the Bible is? It is God's love letter to you. It is God saying to you, "I have set my eye upon you. I love you!"
You're not saved by doing good works. You're not saved by joining a church. You are saved by the grace of God that said, "I love you" first.
When was the last time you wrote a love letter?
When was the last time you received one?
Spend some time today and write a love letter to the Lord.
---
FEATURED RESOURCE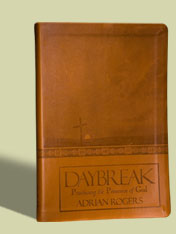 Daybreak: Practicing the Presence of God
This devotional journal with daily applications was designed several years ago by Adrian Rogers. This leather-bound keepsake will be a treasured addition to start your day out right!
Each day you will begin with a nugget from one of his messages, a reading from God's Word, and a place to write your "Spiritual concerns and prayer requests." Order your copy today.
For more Adrian Rogers' resources you may visit the Love Worth Finding bookstore at www.lwf.org.