Love Worth Finding - Mar. 11, 2009
March 11
What Is Your Top Priority?
"And my soul shall be joyful in the Lord; it shall rejoice in His salvation." Psalm 35:9
Do your children believe that the most important thing to you is God? We must celebrate God in front of our children.
Let me tell you what my children think and what they know.
They know that their Daddy's imperfect. They know that I love God. I wouldn't be ashamed for you to ask them that. You can ask any one of them, "What's the most important thing to your Dad and Mom?" They would say, "The most important thing to our parents is their relationship with God."
Are you a parent? Then, ask your children what they think the most important thing is to you. If they say anything other than your relationship with the Lord, make some changes in your life to reflect your top priority.
---
FEATURED RESOURCE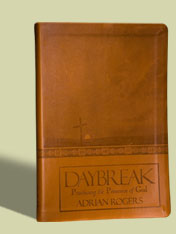 Daybreak: Practicing the Presence of God
This devotional journal with daily applications was designed several years ago by Adrian Rogers. This leather-bound keepsake will be a treasured addition to start your day out right!
Each day you will begin with a nugget from one of his messages, a reading from God's Word, and a place to write your "Spiritual concerns and prayer requests." Order your copy today.
For more Adrian Rogers' resources you may visit the Love Worth Finding bookstore at www.lwf.org.