Love Worth Finding - Mar. 13, 2009
March 13
Be Angry and Sin Not
"Be ye angry, and sin not: let not the sun go down upon your wrath." Ephesians 4:26
God's Word tells us to be "slow to wrath" (Proverbs 14:29, James 1:19). There's nothing that will do more damage to your relationships than unwanted, unwarranted anger. If you are given to anger, let me tell you a couple of things the Bible says, and it won't be flattering.
First, the Bible says you are foolish. Ecclesiastes 7:9 says, "For anger resteth in the bosom of fools." Second, you have a weak character. Proverbs 16:32 says, "He that is slow to anger is better than the mighty; and he that ruleth his spirit than he that taketh a city." Uncontrolled anger is like throwing a rock into a wasp's nest.
Do you have a short fuse? If so, confess it to the Lord. Don't let Satan get a stronghold in your life. If you get angry today, ask yourself, "What need is not being met?" and give it to the Lord.
---
FEATURED RESOURCE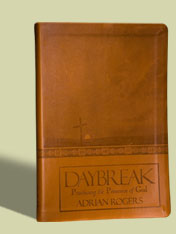 Daybreak: Practicing the Presence of God
This devotional journal with daily applications was designed several years ago by Adrian Rogers. This leather-bound keepsake will be a treasured addition to start your day out right!
Each day you will begin with a nugget from one of his messages, a reading from God's Word, and a place to write your "Spiritual concerns and prayer requests." Order your copy today.
For more Adrian Rogers' resources you may visit the Love Worth Finding bookstore at www.lwf.org.