Love Worth Finding - Nov. 15, 2008
November 15
The Sun of Righteousness
"But unto you that fear My name shall the Sun of righteousness arise with healing in His wings. . ." Malachi 4:2a
Since Jesus is the S-O-N of God, He is also the S-U-N of righteousness.
Let me tell you something about the sunrise. The sunrise never comes ahead of time, and it is never late. Isn't that right? The sunrise operates according to the power of God and the authority of God. You can't hurry it up, and you can't stop it!
That's the way the Second Coming of Jesus is. He is coming at a time known only to God. You can't hurry it up, and you can't stop it.
One day the Lord Jesus Christ shall come with trumpet sound. He will pull back the shade of the night and pin it with a star. Then He'll open the door of the glorious morning of His millennial reign and flood the world with light.
Tomorrow morning, get up with the sunrise and praise God that His timing is perfect and that He is coming again!
---
FEATURED RESOURCE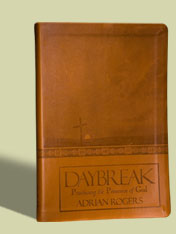 Daybreak: Practicing the Presence of God
This devotional journal with daily applications was designed several years ago by Adrian Rogers. This leather-bound keepsake will be a treasured addition to start your day out right!
Each day you will begin with a nugget from one of his messages, a reading from God's Word, and a place to write your "Spiritual concerns and prayer requests." Order your copy today.
For more Adrian Rogers' resources you may visit the Love Worth Finding bookstore at www.lwf.org.