November 27
Giving Thanks & Praise Always
"Therefore I will give thanks unto Thee, O Lord, among the heathen, and I will sing praises unto Thy name." 2 Samuel 22:50
If we get in an automobile accident and come out alive, we typically thank God for sparing our lives. But do you ever just thank God for saving your life as you drove home from work and didn't have an accident? Isn't that even better?
I heard a story that poignantly illustrates this.
There was a family who heard that a person in their church gave a significant love offering to the memory of their son who died on the battlefield. On the way home, the wife asked her husband, "Why don't we give an offering for our son?" He said, "Why? Our son wasn't killed." She said, "Don't you think that's a good reason?"
What should we do in all things whether we're safe or sorry?
Give thanks unto the Lord.
---
FEATURED RESOURCE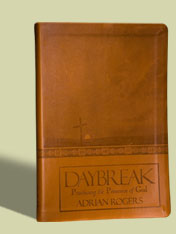 Daybreak: Practicing the Presence of God
This devotional journal with daily applications was designed several years ago by Adrian Rogers. This leather-bound keepsake will be a treasured addition to start your day out right!
Each day you will begin with a nugget from one of his messages, a reading from God's Word, and a place to write your "Spiritual concerns and prayer requests." Order your copy today.
For more Adrian Rogers' resources you may visit the Love Worth Finding bookstore at www.lwf.org.