Love Worth Finding - Nov. 29, 2008
November 29
Looking Unto Jesus
"Looking unto Jesus the author and finisher of our faith; who for the joy that was set before Him endured the cross, despising the shame, and is set down at the right hand of the throne of God." Hebrews 12:2
What does it mean to "look to Jesus" to have all of our needs met?
Well, let's say I borrow ten thousand dollars from Dan, a friend of mine, but then I discover that I can't pay it back. Dan is on to me and says, "If you don't pay it back, I'm going to foreclose on you."
So I go over to another friend, Tom, and tell him about my dire situation and ask for his help. Tom says, "That's alright, Adrian, look to me."
Notice that he didn't say, "Look at me." He said, "Look to me." In other words, "I'll handle it." That's what the Bible means when it says "look unto Jesus." It means look to Him for whatever you need.
Who is looking to you to have their needs met today?
Are you, then, looking to God or are you trying to do it on your own?
---
FEATURED RESOURCE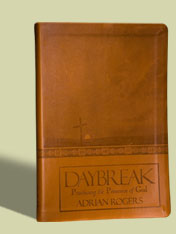 Daybreak: Practicing the Presence of God
This devotional journal with daily applications was designed several years ago by Adrian Rogers. This leather-bound keepsake will be a treasured addition to start your day out right!
Each day you will begin with a nugget from one of his messages, a reading from God's Word, and a place to write your "Spiritual concerns and prayer requests." Order your copy today.
For more Adrian Rogers' resources you may visit the Love Worth Finding bookstore at www.lwf.org.