Love Worth Finding - Nov. 30, 2008
November 30
Remembering What We've Learned
"But continue thou in the things which thou hast learned and hast been assured of, knowing of whom thou hast learned them." 2 Timothy 3:14
In the last days Satan is going to come, and there are going to be more miracles than you have ever seen. Most of them will not be done by God but will be done by the power of darkness — the power of Satan. The Bible says that you can look for an explosion of the occult.
Thank God we don't have to face these days without hope. God tells us what we must do in His Word. We are to remember what we've learned and to take His promises to heart. This will not be a time to doubt Him but to trust Him with all that we are.
How is your personal study time in God's Word going? Start this week to incorporate at least one hour of personal time in God's Word to study its promises, prophecies, and applications. 
---
FEATURED RESOURCE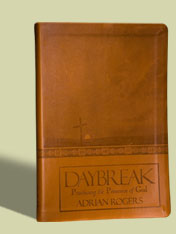 Daybreak: Practicing the Presence of God
This devotional journal with daily applications was designed several years ago by Adrian Rogers. This leather-bound keepsake will be a treasured addition to start your day out right!
Each day you will begin with a nugget from one of his messages, a reading from God's Word, and a place to write your "Spiritual concerns and prayer requests." Order your copy today.
For more Adrian Rogers' resources you may visit the Love Worth Finding bookstore at www.lwf.org.