Love Worth Finding - Oct. 27, 2008
October 27
Fully Trusting in the Lord Jesus Christ
"But without faith it is impossible to please Him: for he that cometh to God must believe that He is, and that He is a rewarder of them that diligently seek Him." Hebrews 11:6
John G. Patton was a Bible translator in the South Sea Islands. While translating, he came to the word "believe" and searched for a word that the native people could truly understand. He wanted something that meant commitment and trust, but he couldn't think of a word.
Then one day, a messenger rushed into Mr. Patton's room out of breath. Needing to rest, he flung himself into a big chair and leaned back in complete relaxation. Patton asked the native for a word to describe what he did when he sat down and completely trusted in the chair to hold him so he could relax. That's the word he used for "believe."
When a person quits trying and begins to trust the Lord Jesus, that's "belief."
Who have you been sharing Christ with that hasn't yet been saved? Ask God to give you a word that will break through the barriers and bring salvation to this person.
---
FEATURED RESOURCE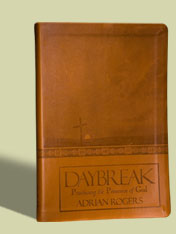 Daybreak: Practicing the Presence of God
This devotional journal with daily applications was designed several years ago by Adrian Rogers. This leather-bound keepsake will be a treasured addition to start your day out right!
Each day you will begin with a nugget from one of his messages, a reading from God's Word, and a place to write your "Spiritual concerns and prayer requests." Order your copy today.
For more Adrian Rogers' resources you may visit the Love Worth Finding bookstore at www.lwf.org.