Love Worth Finding - Oct. 5, 2008
October 5
Praising the Lord for Who He Is 
"I will sing unto the Lord as long as I live: I will sing praise to my God while I have my being." Psalms 104:33
·        We have a God who is simply presented in all of creation; we should recognize Him. 
·        We have a God who is sovereignly powerful; we should respect Him. 
·        We have a God who is surely purposeful; we should reverence Him. 
·        We have a God who is savingly personal; we should receive Him.
All of that is in Genesis 1:1 which says, "In the beginning, God created the heaven and the earth."
We have an obligation to God. We are twice His. First, we are His because of creation, and secondly, we are His because of redemption. He made us and He bought us.
Have you ever had something very precious and lost it? Then gratefully, it was restored to you again? That's just an inkling of the treasure you are to God!  
---
FEATURED RESOURCE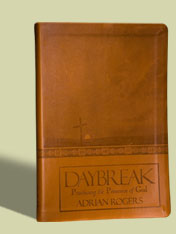 Daybreak: Practicing the Presence of God
This devotional journal with daily applications was designed several years ago by Adrian Rogers. This leather-bound keepsake will be a treasured addition to start your day out right!
Each day you will begin with a nugget from one of his messages, a reading from God's Word, and a place to write your "Spiritual concerns and prayer requests." Order your copy today.
For more Adrian Rogers' resources you may visit the Love Worth Finding bookstore at www.lwf.org.