September 23
How Passionate Is Our Love for the Lord?
"Nevertheless I have somewhat against thee, because thou hast left thy first love." Revelation 2:4
In Revelation 2:1-7, we read about the Lord's charge that the church at Ephesus had left their first love. It wasn't that they didn't love the Lord Jesus. It was that they didn't love Him like they used to.
If there ever was a time when you loved Jesus more than you do at this moment, then you are backslidden.
G. Campbell Morgan said that being lukewarmness is the worst form of blasphemy. I believe he's right. Lukewarmness is a way of saying, "God, I believe in You, but You just don't excite me."
Oh, how we ought to stay in love with the Lord Jesus Christ!
Have you left your first love? Has your love for Jesus became lukewarm? If so, pray Psalm 51:10-12 and seek His face.
---
FEATURED RESOURCE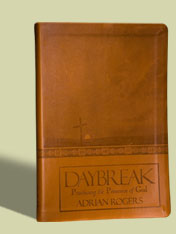 Daybreak: Practicing the Presence of God
This devotional journal with daily applications was designed several years ago by Adrian Rogers. This leather-bound keepsake will be a treasured addition to start your day out right!
Each day you will begin with a nugget from one of his messages, a reading from God's Word, and a place to write your "Spiritual concerns and prayer requests." Order your copy today.
For more Adrian Rogers' resources you may visit the Love Worth Finding bookstore at www.lwf.org.