Love Worth Finding - Sept. 30, 2008
September 30
Imputing Righteousness to Your Account
"Even as David also describeth the blessedness of the man, unto whom God imputeth righteousness without works." Romans 4:6
God imputes righteousness to you through His Son.
What does "impute" mean? It means "to put on your account." At the moment you believe on the Lord Jesus Christ, God makes you righteous. Romans 4:8 says, "Blessed is the man to whom the Lord will not impute sin."
A woman was asked one day what it felt like to be saved, and she replied, "It feels as though I am standing in Jesus' shoes and He is standing in mine." A scholar or theologian couldn't have said it any better.
"For He hath made Him to be sin for us, who knew no sin; that we might be made the righteousness of God in Him" (2 Corinthians 5:21).
If you're saved, thank God that though you are a sinner, He doesn't impute it to you and, though you are not righteous, He does impute that to you!
---
FEATURED RESOURCE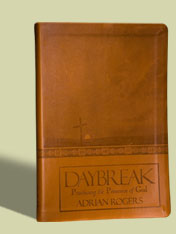 Daybreak: Practicing the Presence of God
This devotional journal with daily applications was designed several years ago by Adrian Rogers. This leather-bound keepsake will be a treasured addition to start your day out right!
Each day you will begin with a nugget from one of his messages, a reading from God's Word, and a place to write your "Spiritual concerns and prayer requests." Order your copy today.
For more Adrian Rogers' resources you may visit the Love Worth Finding bookstore at www.lwf.org.