Behold, I lay in Zion . . . a sure foundation; whoever believes will not act hastily. (Isaiah 28:16)
Actually, it's not the skyline but the foundation line that upholds the buildings. It's not the construction material upon which the building stands but rather the foundation. Often we think of something as fixed and immovable as a concrete slab when we talk about a foundation. Here, Paul is not talking about a particular doctrine, systematic theology, or the recorded words or deeds of the Lord Jesus, but rather he is talking about the living person of Jesus Christ Himself. He alone is the one tangible, concrete foundation who undergirds the church.
---
These are stories Jesus wants you to hear!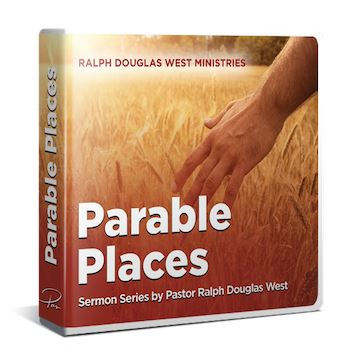 If you've ever wondered if God is really interested in you, it's time you explored Pas' 6-message series, Parable Places.
Let Pastor West take you to some special venues where you can experience Jesus' direction and life-changing love through the stories He shared. You'll be inspired to see how Christ never hurries past the needs of those He loves – and that includes you!
This 6-message series is our way of saying thanks for your gift below to share the Gospel and help more people grow in their faith.
Be encouraged – and thank you for encouraging others through your support!