". . . all you lands!" (Psalm 100:1)
The inclusion in this verse is "all you lands." The psalmist dared to think beyond the confines of the tiny nation of Israel gathered at their little temple in Jerusalem. Indeed, there will be a time when every voice will join in this psalm of gratitude. Every Christian denomination—at every place, at the same time, with all people—will join in this shout of praise, "The Lord God reigns!" So, I will not be thankless because I am joyless, and I will not be joyless because I complain.
---
Be challenged by Romans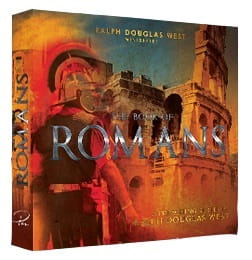 Romans doesn't let us sit still. In Romans, Paul talks about the obligation we are under to spread the truth of the Gospel and to engage with the culture around us. He talks about the journey we must make after we accept the God's gift of salvation. We are called to leave our comfortable and easy corners and spread the message of Christ's sacrifice to everyone around us, because we have been freely justified!