Then He said, "Do not draw near this place. Take your sandals off your feet, for the place where you stand is holy ground." (Exodus 3:5)
The Hebrews' custom of removing their sandals was a respectful sign of recognizing royalty. Similarly, when God is present, there is always fellowship and fear, reverence and respect, approach and awe. We must realize that at any time in the life of
faith
we may encounter God in the moment. On the other hand, some of us expect nothing to happen, so we get exactly what we expect. Yet God can confront you with the extraordinary in the midst of the ordinary. You should be alert and attentive when these extraordinary moments come to you.
---
Be challenged by Romans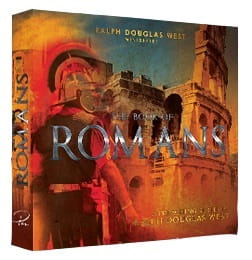 Romans doesn't let us sit still. In Romans, Paul talks about the obligation we are under to spread the truth of the Gospel and to engage with the culture around us. He talks about the journey we must make after we accept the God's gift of salvation. We are called to leave our comfortable and easy corners and spread the message of Christ's sacrifice to everyone around us, because we have been freely justified!