And God said to Moses, "I AM WHO I AM." (Exodus 3:14a)
More than activity and history, God's name means immediacy. He is "I AM." God will not meet you in the past. He does not promise to meet you in the future. He only meets you in the narrow moment of the now. If you feel no immediacy, urgency, or newness, you will never encounter the holy God. As with Moses, the revelation of God's identity, history, activity, and immediacy is available to you right now. It's a wonderful thing for you to have God's name. More importantly, does God's name have you?
---
Be challenged by Romans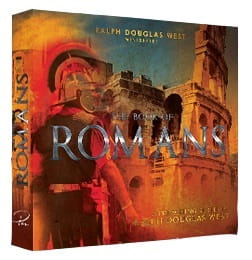 Romans doesn't let us sit still. In Romans, Paul talks about the obligation we are under to spread the truth of the Gospel and to engage with the culture around us. He talks about the journey we must make after we accept the God's gift of salvation. We are called to leave our comfortable and easy corners and spread the message of Christ's sacrifice to everyone around us, because we have been freely justified!