August 28
Give Me Jesus "As the deer pants for the water brooks; so my soul pants for Thee, Oh God. My soul thirsts for God, for the living God…"
God wants living worshipers to arise and be seen, heard, and felt. But to be a living worshiper, we've got to become thirsty; thirsty for what the world can never give; a thirst for the holy. But until the worshiper is thirsty for God the world never will be. It's the longing of the believer, the soul that adores, reveres and serves the God of Heaven, that He will use to draw others to the well of Who He is. Could this be why the lost are not seeking to be saved and why those who are languishing beneath the ruins of godless living are not searching for the source of life found only in Jesus; because passion for God is not seen or heard? How are the lost found if no one is living the way before them? And who is to show them their need for Jesus?
It's that worshipper who is alive with joy and passion for the things of God; that woman who lives above the mundane unwilling to settle for anything less than the fullness of God in every area of her life. It's this woman who has discovered true life indeed. And when the world catches just a glimpse of her, they'll hunger to have it for themselves. The human thirst for the Divine is what's missing before the masses who don't even realize their dying for lack of living waters. The bride of Christ has to become thirsty once again. She's filled her need with temporary things such as ministry, friendships, entertainment, social media, food, service, material possessions, positions and more. These temporary fixes create deeper cravings which send our spiritual senses into panic mode so rather than giving our spirit what it needs, which is the presence of Jesus, we increase what we've been doing to appease ourselves. We turn every which way but to the well of living waters.
In the last days, there will be a falling away, but there will also be one last great revival before the very end comes. God's going to remove His hand to such a degree that waves of great thirst will wash over the souls of mankind. It will be a thirst as never before. And as the deer pants for the water brooks, so the souls of the human race will pant after the Living God. They will recognize that He is a God Who is living and confess their absolute need and dependency upon Him forever more. What a time this is going to be for Christians, and those who will get saved in the end.
Do you cause others to thirst, to want more of God than they have today? Can you impart truth to others about the need to be saved? Is your soul thirsty for Jesus? Have you ever really thirsted for Him? Drink in His presence today and ask Him boldly to give you a thirst for Him that will never be satisfied so you will keep coming to draw from Him every day.
Drink deeply and pour out freely.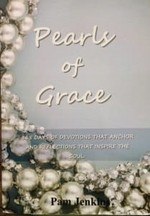 Pearls of Grace Devotional Book
Pearls of Grace is a book of devotions for the entire year, including a read through the Bible in a year calendar, broken down for every day. Beautifully written with encouraging words of hope and empowering words of joy and strength for every woman. Pam draws from the truth and richness of God's Word and gives real life examples in her down to earth style. A must have in your library, click here for more information.
For more from Pam Jenkins and Jabbok Ministries, please visit www.jabbokministries.com!
Listen to Pam Jenkins's daily broadcast on OnePlace.com.