December 12
The Wealth of the Pauper
"Blessed are the poor in spirit, for theirs is the kingdom of heaven."
He who knows he is poor will find he is rich. What is ludicrous in the eyes of man is perfect in God's eyes. Poverty of spirit is the mark of the one who has discovered the path of the blessed life. It is in the discovery of our need for God that we want for nothing else. The soul that lives in utter desperation for God will be given the key to the storehouses of heaven. Jesus came to call those who needed Him. He came to proclaim the Gospel to all those who were "poor in spirit"; those who were without hope; those who, along with the tax collector, beat their chests and say, "God, be merciful on me the sinner." This is the heart of those who are "poor in spirit." Those who recognize that without God they are without hope, without spirit. Do you recognize your spiritual poverty apart from God? Oswald Chambers said, "we will never receive if we ask with an end in view; if we ask, not out of our poverty, but out of our lust. A pauper does not ask from any other reason than the abject panging condition of his poverty, he is not ashamed to be. Blessed are the paupers in spirit."
This is the beginning point for all of mankind, beloved. It is here at this place that man recognizes that he needs God; that he will not make it without Him. And it's there in that moment of bowed knee, in recognition of his sinfulness, that poverty of spirit is honored. It's not recognizing that you need God for something, or even for someone, but it's recognizing that you need God Himself. There is a difference in needing God for something and just needing God. Poverty of spirit is the absence of self-reliance; the absence of all pride. It is the deepest place of repentance. It is complete and utter brokenness. Discover what it is that keeps you from recognizing, from seeing your poverty of spirit, beloved, and you will find the spiritual secret that will lead you to the richness discovered only by paupers.
The pauper once draped in ragged garments is now clothed with garments of splendor and majesty. He who once lived on filthy streets now walks down streets paved with purest gold. The beggar now sits at the King's table. The one, who was in desperate need, now wants for nothing. He, who had no future, is now an heir to the throne of heaven, and he who had no home now resides in the palace of the majestic one. This is why Jesus said; "blessed is he who is poor in spirit, for his is the kingdom of heaven."Poverty is a beautiful thing. Are you rich apart from God, precious daughter, or are you a pauper in need of your God?
Only the beggars will feed at the King's table and only the poor will find he is rich.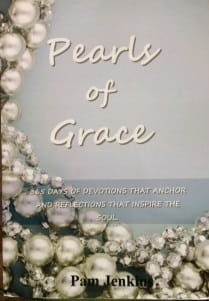 Pearls of Grace Devotional Book
Pearls of Grace is a book of devotions for the entire year, including a read through the Bible in a year calendar, broken down for every day. Beautifully written with encouraging words of hope and empowering words of joy and strength for every woman. Pam draws from the truth and richness of God's Word and gives real life examples in her down to earth style. A must have in your library, click here for more information.
For more from Pam Jenkins and Jabbok Ministries, please visit www.jabbokministries.com!
Listen to Pam Jenkins's daily broadcast on OnePlace.com.