December 26
Come to the Manger of His Presence
" … and he fell at Jesus' feet…"
The star had shown brightly overhead illumining the darkened sky, showing them the way in which they must go. So brilliant was its light and captivating was its appearance, that they cared not what lay ahead, only that they follow till they find the promised one. This journey would take them across the desert sands, over the rugged terrain of the distant mountains and beyond the great waters of the deep. The child born unto them, was God Himself, wrapped in swaddling clothes, lying in a manger. They knew this star would show them the way to this child, the child whom they longed for ages past to bow and worship. These wise men had but one desire, one destiny; to sit at the feet of their King, their deliverer, the One Who would be called Emanuel, God with us. Why did these men forsake all just to bow at the feet of Jesus?
They knew that someday the feet of this tiny baby would walk on stormy seas speaking but just a whisper to hush the winds that swept so violently about Him. These feet would walk the dusty roads of heartache and betrayal, finding no place to rest His head; only a cross of suffering and shame. These same feet that had trod where angels trod, would bow to wash the very feet of the one who would betray Him. These feet traveled so far, coming all the way from glory, so that we might walk with Him there someday.
It's at these feet that the world fades away and eternity slips into view. The place where all war ceases because the battle you find is already won. The feet where angels linger and never cease to cry, "holy, holy, holy", belong to the lamb Who was slain before the foundation of the world. There at these feet you find the nail pierce marking of the One Who died for you. Precious are these feet, for they bear the marks of love eternal: Love that longs for the day to hold your face in His nail pierced hands and say, welcome home.
In a world of confusion, constant turmoil, valleys of suffering and great hostility, there is but one place to find comfort, strength and guidance for every moment and circumstance of life; the feet of Jesus. At His feet, storms are quieted and the roaring waves of life cease, settling the windswept soul. At the feet of Jesus, I find myself at home. I find a tower of strength and a bulwark that will never fail me. He knows my name for it's inscribed upon His hands. He knows my heart and He knows the way I choose. He is my Lord; my Savior and the Savior of the world. And His light has appeared unto me.
Worship Him.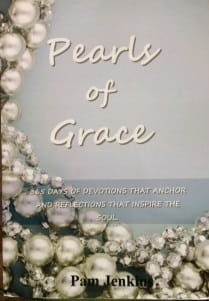 Pearls of Grace Devotional Book
Pearls of Grace is a book of devotions for the entire year, including a read through the Bible in a year calendar, broken down for every day. Beautifully written with encouraging words of hope and empowering words of joy and strength for every woman. Pam draws from the truth and richness of God's Word and gives real life examples in her down to earth style. A must have in your library, click here for more information.
For more from Pam Jenkins and Jabbok Ministries, please visit www.jabbokministries.com!
Listen to Pam Jenkins's daily broadcast on OnePlace.com.